Regular price
$459.00 USD
Regular price
Sale price
$459.00 USD
Unit price
per
Sale
Sold out
This is the in sotck&B stock of Space80:Apollo.
GB Link of Space80:Apollo: https://graystudio.club/products/gb-space80-apollo
Extra of Space80:Apollo:https://in-stock.graystudio.club/products/in-stock-extra-of-space80
About B sotck Space80 may be slight defects in the appearance (minor scratches and dings, etc.) but they do not affect the usage,
Ready to ship(in 10 days)
[1x Space80:Apollo Package Includes all the follows]
1x case, top & bottom
1x badge (aluminum), with

 

LED diffuser

1x

 

Dual-color FR4 plate
1x Polycarbonate plate
1x 40 gaskets
1x PCB (only solder,1.6mm,Flex, ESD protection,need PCB stabilizer)
1x Brass weight(PVD)
1x

 

silicone vibration reduction pad
1x Poron vibration reduction pad(3.5mm)
1x noise reduction pad
1x LED diffuser(s)
1x updated screwdriver (Graystudio brand) 
1x tweezer (always test the PCB before soldering!)
Screws, rubber feet, some backup SMD LEDs
Designer packaging
[Layout]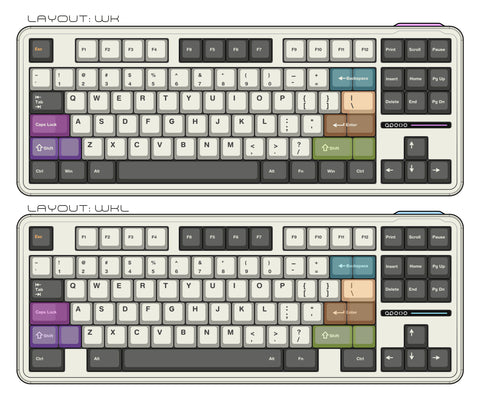 [Colors Options]
Color Options Image Library: SPACE80: APOLLEO will continue to use the same Color palette as SPACE65: CyberVoyager and THINK 6.5 V2. You can refer to the Color and surface texture of these two kits.
QC standard of A sotck:

1.Product appearance: no scratches, bumps or defects larger than 1*1mm on the outer surface of the kit (the outer surface is the up and down, left and right, back and forth six outer surfaces after assembly);
2.Function: the keyboard function is intact, no use problem;
3.Structure: The keyboard structure is in good condition under the assembly state, without any problems affecting the installation.

Defects that may occur but are within acceptable limits:
1.Defects that do not affect the use: hanging point of the anode hanger, slight CNC cutting lines, internal scratches;
2.Appearance defects in tool parts, such as a bruised screwdriver.
Share
View full details